Wanna make him feel loved and appreciated?
This list of Christmas Gifts for him is just what you've been looking for.
The perfect Christmas gift for him is one that's tailored to his personality and what he wants most right now.
Is your hubby hard to shop for? Or is he that guy, the one who already has everything?
Fear not, I've scoured the interwebs to find the perfect gift for even the most hard to surprise man.
This post may contain affiliate links. Our disclosure policy is a snooze fest, but feel free to check it out here.
If you're curious (or need a gift quickly):
The Techy
If he's a geek for gadgets, then here are some great options for him:
1. Wireless Charging Station – Give him a place to charge all of his gadgets neatly on his desk or nightstand. The clean and sleek design will work perfectly in any location.
2. Oculus Virtual Reality Gaming Headset – This is about as "into the future" as we can get. If he's a gamer, the Virtual Reality Experience is one that he's sure to enjoy.
3. Arc Star Floating Speaker – This beauty is hard to take your eyes off. This levitating speaker has some pretty mixed reviews on Amazon. But if you think this is something he'd like, I'd definitely recommend doing some research and investing.
The Hard Worker
These are the perfect Christmas gifts for him if he's in need of some rest and relaxation. These gifts coupled with some time off are sure to put a smile on his face.
4. Back and Neck Massager – Hubby working from home this year? This back and neck massager is the perfect gift to help him relax even on the most stressful days. Check out what the thousands of 4 and 5 star reviewers have to say about it.
5.
Foot Massager – If he's on his feet a lot, this could be the perfect gift to help him relieve some of those aches and pains. Hand him a glass of his favorite drink, turn on the massager, and watch the stress melt away.
6. Deep Tissue Back and Body Massager – This percussion massager has thousands of raving fans who are getting on-demand, deep tissue massages, from the comfort of their homes.
The Entertainer
If he's the life of the party and he enjoys showing others a good time, he'll love these gift ideas.
7. Projector + Screen – 2020 has meant that we've gotta get creative. We may not be heading to the theater as often as before, but we can create the ultimate home theater. This projector and screen is the perfect setup for a top notch outdoor or indoor movie experience.
8. Sound System – Everything sounds better when it's in surround sound. As I said, he may not be able to make it to the movie theatre this year, but he can have the same experience at home. With an addition of a simple soundbar, he can easily improve the acoustics in his favorite entertaining area.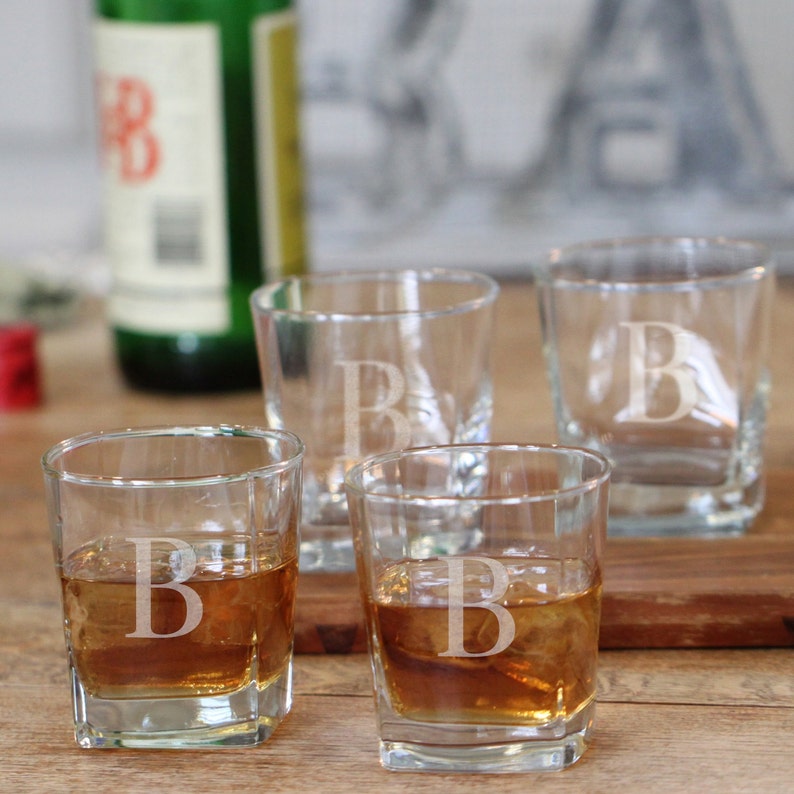 9. Personalized Glass Set – If he enjoys hosting a good party or having the boys over, he'll love being able to show off these simple statement pieces. Nothing sets the atmosphere like serving your guests in personalized glasses. (Image source: GeneralGreenesGifts on Etsy)
The Music Lover
What his favorite jam right now? Whatever he loves listening to, these Christmas gifts for him will take his love for music to the next level.
10. Headphone Stand – A nice headphone stand is the perfect way to keep his headphones safe while putting them on display. This headphone stand is functional, stylish, and a perfect addition to his office, man cave, or bedroom. Plus it comes with a charging station so he can charge his phone while he's jamming out.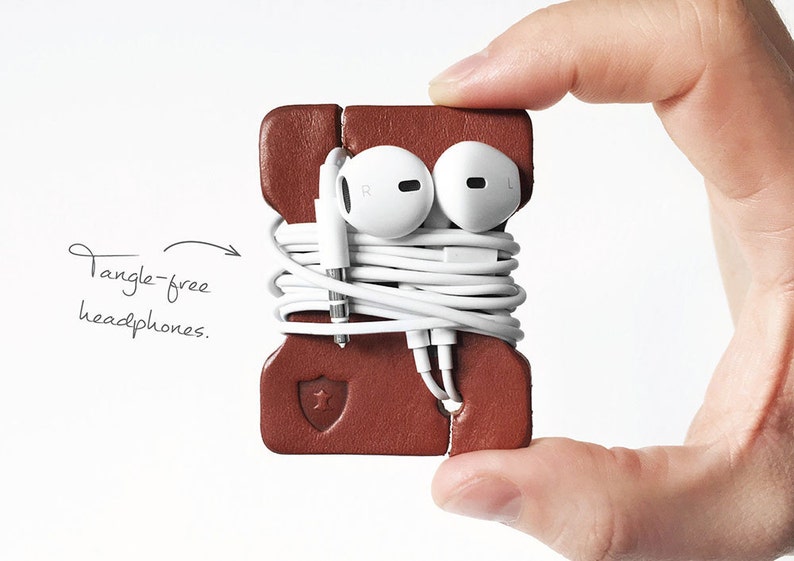 11. Leather Headphone Tidy Wrap – Is it just me, or is it so annoying when your headphones get tangled? You end up having to spend 15 minutes just detangling the headphones before you can even use them. This leather wrap makes storing your headphones super easy. (Image Source: Holdallandco Shop on Etsy)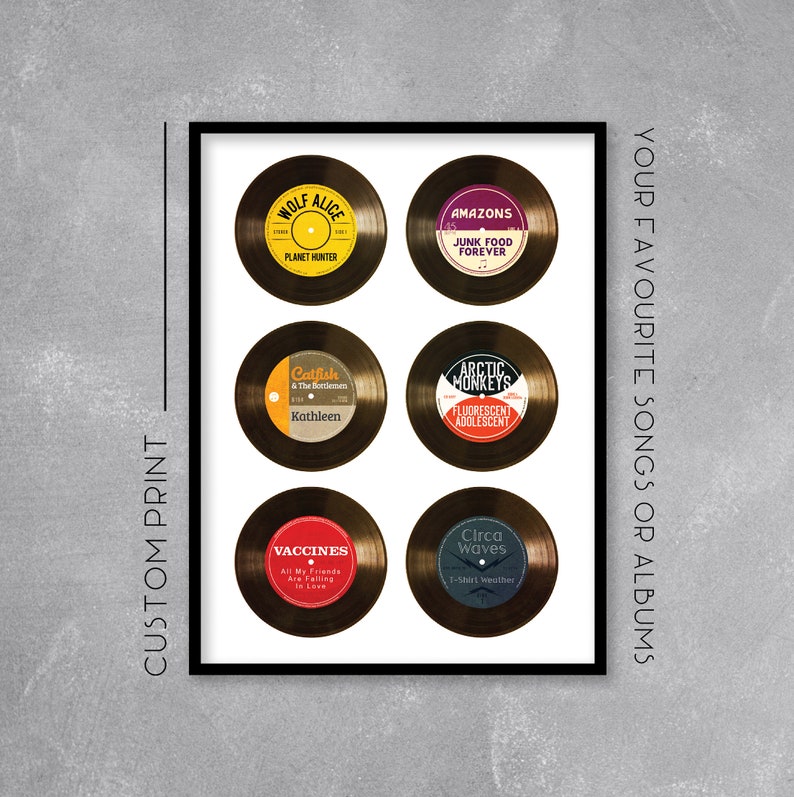 12. Personalized Vinyl Record Print / Poster – What are his favorite songs? The songs that make him reminisce or bring back some of his favorite memories? Get those songs added to a personalized vinyl record poster. Perfect to place in his office, man cave, or wherever he likes to chill. (Image Source: The Origami Fox on Etsy)
The Sports Fanatic
Does he live and breathe sports? Whatever his favorite sport, or team, you're bound to be able to knock his socks off with a personalized gift.
13. The Perfect NFL Tailgate Set – Let him show his team pride with this epic tailgate set. It comes with a table and 2 chairs, and as for his team spirit… they have all team options available. Really, there's no better way to tailgate.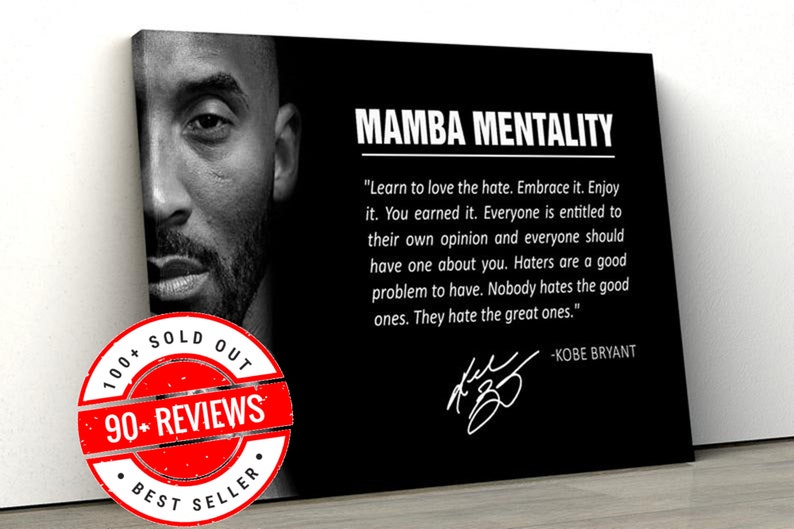 14. A Canvas to Commemorate his Hero on the Court – This has been a tough year for all of us, especially sports fans. A canvas of his favorite player is a thoughtful way to pay tribute to one of his heroes. (Image Source: CanvasGiftsShop Etsy)
15. Sports themed duffle bag – How would he love to travel in style while repping his favorite team? This functional duffle bag will have him eager to take his next trip. Hook him up with a duffle bag or a backpack branded with his favorite team's logo.
The Grill Master
These are the perfect Christmas gifts for him whether he's a master on the grill or a master in training. Every grill guy needs his own personalized touch on his grill station.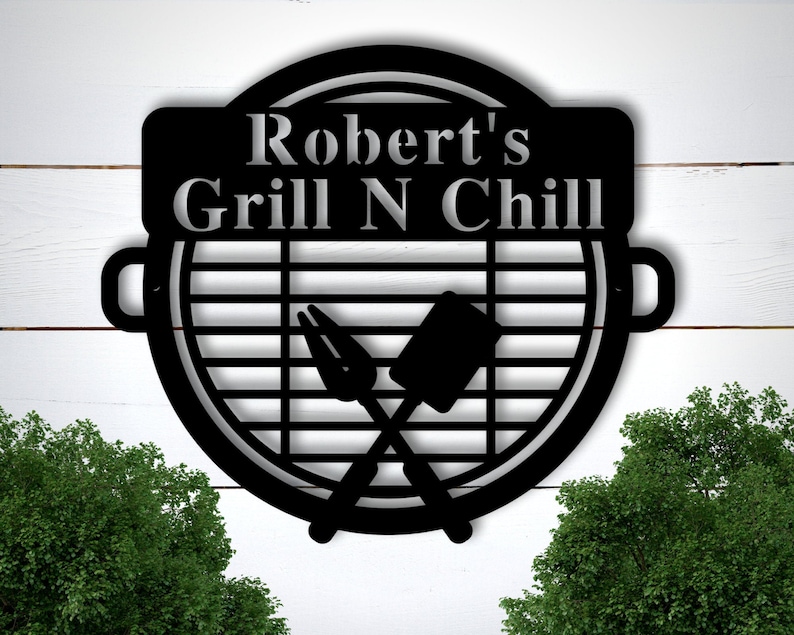 16. Personalized Grill Sign – Every grill master should have an engraved sign to mark his zone. This engraved grill master sign from the "WeddingsDecorandMore" Etsy shop,  is affordable and is full of swag. (Image Source: Etsy)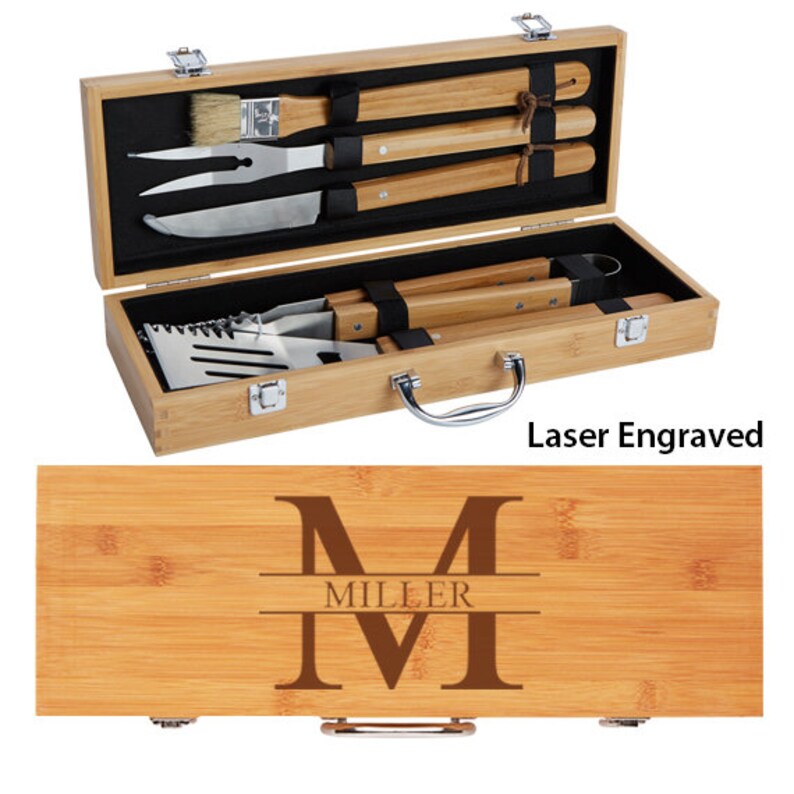 17. Engraved Grill Kit – Another perfect gift for your favorite grill master. This laser engraved Grill set will leave him chomping at the bit to fire up the grill. Not only is it stylish and personalized, it's a functional gift he'll get great use out of. This kit is also popular on Etsy. (Image Source: Etsy)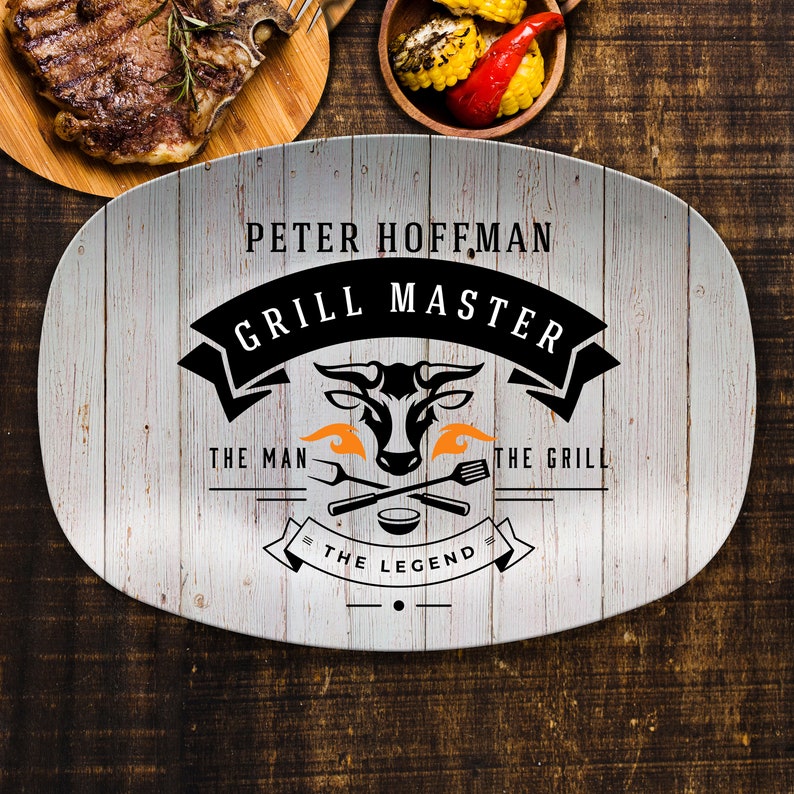 18. Personalized BBQ Grilling Plate – You won't have to ask to him cook dinner. He'll be looking for any opportunity to whip out his Personalized BBQ Grilling Plate. (Image Source: Etsy)
The Secret to Picking the Perfect Christmas Gifts for Him
I hope you found some great options on this list – or at least some options that got your creative juices flowing.
The secret to finding the perfect Christmas gifts for him is thinking about his personality. What are his habits, hobbies, and interests?
Amazon is a perfect option, especially if you need your gifts to arrive quickly.
They've also curated an awesome list of gift ideas for the men in your life.
Etsy, is my preferred choice for finding custom, personalized, and extremely thoughtful gifts. Expect for shipping to take a bit longer from Etsy (or anywhere that doesn't offer the equivalent of Amazon's Prime shipping).
You can also use this as a chance to plan an awesome surprise that he'll love.
I hope this helps and if you have any additional suggestions, feel free to drop 'em in the comments below.
w/ light and love,
Matthew 5:14 – You are the light of the world. And like a city on a hill that cannot be hidden.
Other Related Posts