I'm just gonna put this out there…
I struggled with jealousy for years.
And I mean, many years.
I wasted so much time and energy wishing I had what someone else had.
But by the grace of God, He's helped me kick that bad habit.
So today, I'm sharing what I've learned about how to stop being jealous of other people's lives.
And like most issues of the heart, Step 1 is always being brutally honest with yourself and with God.
Let's keep it real….
Sigh… I wish I could pretend these moments didn't exist… 
The moments when you come face to face with the ugly truth.
It's uncomfortable to say the least.
My ugly truth was that I was jealous of my friends and family.
That's the kinda thing I wished I could hide behind a warm smile and phony compliments…
But, jealousy will always make itself known.
And it's one of those things you have to face head on, no matter how uncomfortable it makes you.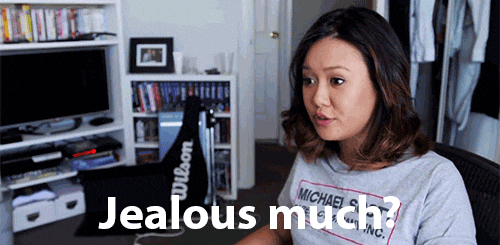 READ THIS NEXT: How to stop comparing yourself to others
Jealousy exposed me
A few years ago, I thought I was killing the game.
I was growing as a person, growing in my relationship with God, feeling good about my personal growth and then BAAAM!
Out of nowhere, something happened…
I got this icky and all-too-familiar feeling in my heart.
It was pure unadulterated jealousy. 
I thought I'd evolved beyond feeling jealous of people, but there I was, suddenly struggling with it again.
I was watching the Lord bless someone with something that I desperately wanted.
Before I knew it, I found myself spiraling in feelings of anger, rejection, fear, and jealousy.
Asking the obvious questions like, "why'd you do that for them Lord and not me?"
Pathetic, right? I know…
Jealousy exposes what's really in your heart
In the middle of my pity party, 4 things became painfully obvious:
What I was feeling was wrong.
Even though I knew it was wrong, I couldn't figure out how to pull myself out of it.
Even though I couldn't pull myself out of it on my own, I was embarrassed and ashamed to admit to anyone that I was struggling with it.
And lastly, If I didn't face this head on, I'd be disappointing myself and disobeying God.
God was exposing something in me that He wanted me to deal with.
He was bringing something to the surface that was ugly and painful and wrong.
(Always remember that God corrects us because He loves us. – Hebrews 12:16)
How to Stop Being Jealous of Other People's lives:
Jealousy is an indicator that it's time to change your perspective on things.
These 4 mindset shifts helped me overcome jealousy, and I pray they help you too.
1. Forced Gratitude
Jealousy is often connected to a feeling of lack.
You're upset because you don't have something that you want, and even more annoyed that someone else has it.
When you're feeling jealous, the last thing you wanna do is start practicing gratitude.
But, it's really the first and easiest way to tone down the jealousy.
Even if you have to force yourself to be grateful.
Gratitude makes it harder to hold on to feelings of jealousy and envy.
When I started focusing on the good things in my life, my heart started filling with gratitude.
If you're being honest, I'm sure if you really thought about it, there's a lot that you can be thankful for.
2. Shift Your Focus Upward and Inward
Jealousy, like any issue of the heart, is an indicator that it's time to sit at the feet of the Father and get help.
It's an invitation to pray and ask God to help us shift our perspective so that it matches His perspective.
It lets us know that there's still room to grow into the woman He's called us to be.
When you shift your focus upward toward Him, He can change your heart and your perspective.
He'll help you to move from looking outward at what others have, so that He can show you what He desires to do in YOU.
Focus your energy on spending more time in His presence, in His Word, and in prayer.
READ THIS NEXT: 19 Must-Try Activities to Build Confidence
3. Share your "Ugly" (metaphorically)
I remember feeling so embarrassed that I was even struggling with jealousy.
I knew I'd look like a crappy friend and person if I was honest about how I was feeling.
And so I was tempted to struggle in silence.
But here's what I've learned…
The enemy of your soul wants nothing more than to watch you spiral in isolation.
Jealousy is not pretty. It's awkward and uncomfortable.
But dealing with it by yourself will prob'ly make it worse.
God built us for relationships – we need other people.
Find people you can confide in, who care about your growth, and who you can have raw and honest convos with.
I couldn't figure out how to change the conversation I was having in my head until I opened up to people who I could safely show the "ugliest" parts of myself to.
That when I was able to really breakthrough.
READ THIS NEXT: 7 Encouraging Prayers for Self-Worth & Confidence
4. Remember that Life Happens to Everyone
You never know what someone has REALLY gone through, is going through, or will go through.
And if you did, you probably wouldn't be jealous of them…
This was one of the most sobering realizations I had when learning how to deal with jealousy.
Remember, we can only see a part of a story.
The morning after I surrendered that jealousy before God, we turned on the news to find that Anthony Bourdain died by apparent suicide. Heartbreaking.
A man, who from the outside had it all and lived a life that most people will never experience, took his own life.
He was surrounded by tons of people daily, and I don't think anyone suspected that he was suffering the way he was.
It's easy to make judgements about the quality of life someone has because of the things they can buy, the opportunities they have, the person they're married to, etc.
But the truth is YOU NEVER KNOW what someone is really dealing with.
🙏🏾| 1 Samuel 16 says, "For the LORD sees not as man sees: man looks on the outward appearance, but the LORD looks on the heart."
Here's the truth…
The grass isn't greener on the other side, it's greener where you water it.
Don't miss the doors He's opening for you because you're too busy peeking through someone else's window.
I know it's easier said than done, but you will outgrow jealousy as you shift your focus to cultivating more good in your life, being the best person you can be, and living with gratitude.
Pray about it
If you're struggling with jealousy, pray about it.
Seriously, prayer will help.
God loves you and He wants to help you move beyond jealousy.
🙏🏾| Philippians 2:13 says, "For God is working in you, giving you the desire and the power to do what pleases him."
Ask Him to help you become someone who celebrates others instead of being jealous of them.
Ask Him to help you become confident in who He's created you to be and to trust that He has good plans for you.
Surrender those feelings to God and He will help you overcome jealousy.
READ THIS NEXT: Bible Verses on Jealousy
Your struggles don't define you
Remember, even in all your mess, God still calls you His Masterpiece.
The journey to becoming the person He's called us to be requires growth, which can be painful.
However, the reward of going through the process is 10000% worth it.
I'd love to hear your thoughts. Have you struggled with jealousy before?
If so, share some tips you've discovered on how to deal with jealousy.
With oodles of love,
B. Whyte
PS. So many people suffer in silence because they feel the need to be perfect.
They're working to keep up appearances (I see this everywhere, especially in the church.)
I'm tired of hearing stories about people who spiraled out of control, or took their lives, because they were being crushed under the weight of their burdens.
It shouldn't be like that.
I want to encourage you to be open, honest, and authentic.
You're not the first person to go through something, and you're not alone.
You're loved, needed, and  wanted.
I pray this blog blesses you and encourages you.
Like this post? Share the love and Pin it please.
w/ light and love,
Matthew 5:14 – You are the light of the world. And like a city on a hill that cannot be hidden.
Other Related Posts