If you're doing Valentine's Day at home this year, I'm about to make your day.
Are you ready to make your hubby say "wooow baby, you outdid yourself!"?
I know I am.
Valentine's Day is the perfect opportunity to spice things up with your hubby.
And the best part is you can do it at home without breaking the bank (or your New Year savings goals).
(pin this post for later)
Plus these 3 steps will hardly take you any time to implement.
Alrighty, let's move on to the only 3 steps you're gonna need to plan a bomb Valentine's Day at home.
Step 1: Set the Mood
Creating a little ambiance is easy to do, and it'll add loads of romance to your evening. You can do that in 3 Easy Steps.
1. Music – Get your playlist ready. I'm an R&B girl myself, but whatever your jam, you can search for a nice playlist on YouTube or create one ahead of time using your fave music streaming service.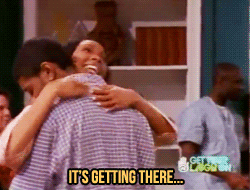 (Image From: https://i.gifer.com/1TWM.gif )
2. Lighting – If you have a light dimmer then you already know what to do. If not, you can get some candles and use it in combination with a night light to create romantic lighting. Again, you don't have to break the bank. Hit up the dollar store or head over to Amazon (you can buy candles in bulk at a great price).
3. Decor – You can get some disposable and (reusable) rose petals to sprinkle on the floor, bed, and wherever else you'd like. The rose petals + candles will instantly make your space feel super romantic. If you need some additional inspo, head on over to Pinterest – you'll find something you love.
Step 2: Valentine's Day at Home isn't complete without Something Delicious
1. A delicious meal – Whip up your signature dish or shake things up and try a new recipe. I used Hello Fresh for the first time recently and loved it! If cooking isn't your thing, or if you just don't have the time,  you can order a meal from your favorite restaurant. Hello Uber Eats!
2. Sorbet & Champagne Cocktail – If either of you have a sweet tooth, you will fall in love with a "sorbet & champagne cocktail." The first time I tried it, I was instantly a fan! Click the image below for a recipe and thank me later.
( Image and recipe from: www.jennifermeyering.com )
3. Chocolate Covered Strawberries. The perfect romantic snack. You can pick up a pack from your local super market or DIY it and make it at home.
When you've got your music, food, and lighting – you're almost at the finished line!
Step 3: The Entertainment for the Evening…
Now, this is where you can get really creative. Depending on what you and your hubby like to do, you can watch a movie or you can set aside sometime to spice things up. Here are 3 super cute and romantic options that can add a dose of sexy + intimacy to your night.
The Fishing Bowl Game
If you've seen the show Married at First Sight, you know where I'm heading with this. It's simple…
Get an empty fish bowl  or you can use another empty container.
Get a sheet of looseleaf and write down some emotional intimacy + physical intimacy questions. Cut them up, put them in a fish bowl.
Over a glass of your Sorbet + Champagne cocktail, take turns asking each other questions.
Related Post > 3 Valentine's Day Surprises He'll Rave About For Years
Massage Therapy
You've got the lights, candles, mood music, and chocolate covered strawberries. Now all you need to do is get some massage oil (or regular baby oil), and take turns giving each other massages. If you really want to wow him, watch a couple quick YouTube videos on how to give an awesome massage.
3. Share a Dance (Or maybe you want to be a performer for the evening)
Now before you shut me down, just hear me out sis. lol.
When's the last time you did something outside of your comfort zone to surprise your husband?
No one is saying that you need to be Beyonce, but how do you think your husband would respond if you invited him to slow dance with you, or if you did a dance for him.
If you think he'd appreciate it, then find a song, and make it happen. A word of advice: Have fun with it – the more you enjoy yourself, the more he'll enjoy himself.
As a reminder, you're beautiful both inside and out – embrace that queen.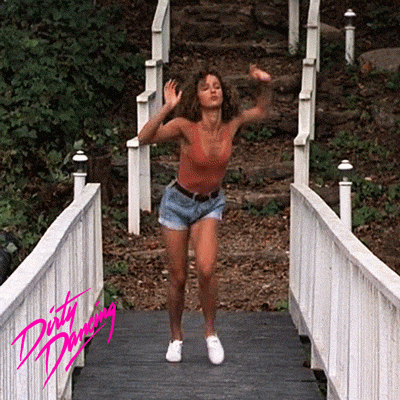 (Giph from: https://giphy.com/gifs/lionsgatehomeent-friday-patrick-swayze-dirty-dancing-3oEjHFNwV614N7RAKA)
Other tips for a perfect Valentine's Day at Home:
There you have it… 3 Super Simple Steps to a Valentine's Day at home experience your hubby will never forget.
If you want to give your hubby a gift, check out these Valentine's Day Surprises for some unique gifts he'll rave about for years.
You can get additional inspiration or get ideas on how to take it to the next level by visiting Pinterest – trust me, Pinterest is your friend.
If you need to get supplies quickly and don't have time to visit your local store, you can get fast delivery with Amazon (especially if you're a prime member).
How'd it go?
If you follow these 3 steps let me know how it goes! If you have any additional suggestions or tips you wanna share, leave them in the comments below – I'd love to get some extra inspiration.
(Enjoyed this post? Share the love and pin please)
—
w/ light and love,
Matthew 5:14 – You are the light of the world. And like a city on a hill that cannot be hidden.
Other Related Posts