Doing Valentine's Day at home this year?
If so, you and your hubby are in for a treat.
A romantic evening at home is the perfect chance to get creative, have some much needed fun, and spend some quality time with your man.
You can plan the evening together or take the lead and surprise him with a lil sumthin special.
Ready to make Valentines Day 2022 unforgettable? Keep reading…
This post may contain affiliate links. Our disclosure policy is a snooze fest, but feel free to check it out here.
If you're curious (or in a hurry):
🎁 Looking for a gift he'll love
almost
as much as you? 1000+ Amazon Reviewers think this little
love coupon book
could be exactly what you're looking for.  😘
---
In this Post:
---
What We Love Most About This Guide
Here's why we think you'll absolutely love  this guide.
If you have kids who'll be at home with you, we've got you covered with some kid friendly ideas too.
These ideas are easy to plan and won't break the bank (or your New Year's savings goals).
Now let's get to the fun stuff!
This post may contain affiliate links. Our disclosure policy is a snooze fest, but feel free to check it out here.
21 Valentine's Day at Home Ideas
With 2021 being so… well 2021, you may be forgoing your usual Valentine's Day plans this year and opting for a nice evening at home.
Below you'll find 21 ideas for a fun and sweet evening with your hubby.
Here's how you can use this list…
Pick a couple items from the list
Use the steps below to put together a plan for the evening
You'll see how I incorporate some of these ideas below. I'll walk you through the 3 steps I use to plan an unforgettable Valentine's Day at home.
But first, let's get into our list of ideas.
The Main Course:
I don't know about you, but eating out at a nice restaurant is one of my favorite parts of Valentine's Day.
Nothing says "i love you" like an amazingly delicious meal.
Here are a couple option for a delectable dinner at home.
1. Cook a meal together – Do you both know your way around the kitchen? If so, you can each make your best dish. If not, or if you're just in the mood to try something new and easy, order a meal kit from a service like Hello Fresh. All the ingredients arrive right to your doorstep plus their recipe cards are super easy to follow.
2. Order from your favorite restaurant – Want a meal you know you'll love without the headache of cleaning up after? Order takeout or delivery from your fave restaurant. It doesn't get any easier than that.
3. Do an indoor picnic – A simple and romantic way to make an ordinary dinner feel extra special. All you need is a blanket on the floor (or in your backyard/patio) and some delicious food. It doesn't have to be expensive either. My husband and I have had plenty of delicious cooked dinners from Publix, our local grocery store. Just be creative and have fun.
4. Dessert – We're not big dessert eaters in my house so special occasions are the perfect time to indulge. Sharing a nice dessert (maybe one plate and 2 spoons) could be a nice end to a delectable meal.
5. Have a nice drink – Whether you prefer mocktails or cocktails, there are certain drinks that have a way of hitting the spot. Choose something that you both can sip on throughout the nite.
The Spark:
It's time for the part of the night that combines the Grown & Sexy with the Sweet & Romantic. The ideas below are great for building intimacy and connection.
6. Couples massages – I don't know about you, but nothing makes me feel quite as relaxed as a nice massage. Plus it's an easy way to build intimacy. If you wanna feel like a pro while doing it, check out the Melt Couple's Massage Class. The name pretty much says it all…
7. Dancing – Who said that you can only dance together at weddings? Put on your favorite song, maybe the one you danced to at your wedding, and relive that special moment.
8. Take a trip down memory lane – Snuggle up on the couch, and rewatch your wedding video, or go through your favorite family albums. Do something that'll remind ya'll why you fell in love and how much you've grown together.
9. Bubble Baths or a Steamy Shower – Run a nice bath or opt for a nice shower with your hubby. It's an easy but simple way to spend some romantic quality time with him. For that extra special feeling, light a candle and drop some rose petals in the bath water before you get in.
10. Make a date jar – On a holiday dedicated to love, it makes sense to renew your commitment to showing your love throughout the year. A date jar, which is a list of fun dates you both come up with, is the perfect way to do that. To make one, each of you can come up with a list of 10 date ideas. Put those ideas in a jar. Each date night, take an idea from the jar and do what's written on the paper. It's the perfect way to break up your routine and keep things fun.
Games:
IMHO friendship is such an important part of marriage.
With all the other serious things you both face throughout the year, it's important to take time to have some fun together.
Many of these games are spins on classic games.
11. Fishbowl Game – I discovered this gem on the show Married at first sight. Here's how you play.
12. Truth or Dare – An oldie but goodie. Get creative and have some fun both with your questions and your dares.
13. OUR MOMENTS Couples: 100 Thought Provoking Conversation Starters– If you've ever felt like you've run out of things to talk about with your hubby, this game is for you. The prompts in this game are the perfect conversation starters. Snag it here.
15. Romantic Scavenger Hunt – A scavenger hunt is a playful and fun game. You can hide romantic clues around the house that lead him to a gift or a cute surprise. You can grab free scavenger hunt printables and get ideas for fun prizes here.
16. Play a Classic – Break out your favorite board game, card game, or video game and have some fun.
The Venue:
Just because you're doing Valentine's Day at home, doesn't mean you can't make home feel extra special. The ideas below are simple touches you can use to decorate your house.
17. A trail of rose petals – Whether you're doing a picnic or a romantic couples massage, a couple of rose petals on the floor or bed are an easy and romantic touch. Snag some on Amazon here.
18. Mood lighting – Lighting some real candles or some reusable LED flameless candles during dinner can make you feel like your at a fancy restaurant.
19. Music – What's your jam? R&B, Soul, Classical music? Whatever it is, turning on your favorite tunes is an easy way to shift the atmosphere.
No babysitter? No Problem. Kid Friendly Ideas:
You can include the kiddos in your Valentine's Day Celebration. Or, set up a separate Valentine's Day Celebration for them.
It's a little more work, but it's an easy way to make sure you and your hubby get some quality time together.
Then when the kids go to bed, you both can enjoy the rest of your evening. ;-).
20. Family Fun Dinner – You can make dinner together as a family so that the kiddos feel included. Eat dinner as a family, and then give the kids a separate activity after dinner. Or, set up a picnic for the kids in the living room, while you and hubby have a nice dinner at the table.
21. Separate PJ Movie Nights / Game Nights – While you and hubby are enjoying your romantic evening, set up a fun Movie Night or Game Night for the kids in another room. They'll remain occupied while you both enjoy your evening.
(pin this post for later)
Valentine's Day Gift Ideas for him
Looking for a gift that'll show your hubby how much you adore him?
I narrowed down this list to 2 of my favorite gifts.
I'm a sucka for personalized and heartfelt gifts.
The gifts below are customizable, affordable, and super sweet.
Ready to write your own love story… literally?
Then make a love book.
It's a personalized book all about your husband and your love for him. With Love Book you can:
Customize the cover of the book
Customize the characters in the book
And customize the message on each page of the book
Click below to get some inspo and learn how to make your own lovebook:
Love coupons are one of my fave gifts!
Like the Love Book, you can create custom coupons for things you know your husband will love.
I made one for my hubby's birthday a couple years ago, and it's still one of our most talked about gifts.
First, I created custom characters…
Then I came up with 20 creative coupons for him…
Love Coups, the company I used to create the coupons gives you plenty of ideas, so don't feel pressure to be super creative.
They're super easy to create and you can make your coupons as sweet or spicy as you want.
3 Steps to an Unforgettable Valentine's Day at Home
We have some pretty sweet ideas to work with.
Now let's talk about the steps for planning a night filled with sugar and spice and everything nice.
Step 1: Set the Mood (Decorating for Valentine's Day at Home)
Creating a little ambiance is easy to do, and it'll add loads of romance to your evening. You can do that in 3 Easy Steps.
1. Music – Get your playlist ready. I'm an R&B girl myself, but whatever your jam, you can search for a nice playlist on YouTube or create one ahead of time using your fave music streaming service.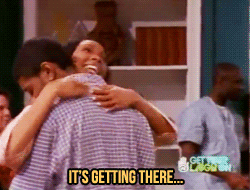 (Image From: https://i.gifer.com/1TWM.gif )
2. Lighting – If you have a light dimmer then you already know what to do. If not, you can get some candles and use it in combination with a night light to create romantic lighting. Again, you don't have to break the bank. Hit up the dollar store or head over to Amazon (you can buy candles in bulk at a great price).
3. Decor – You can get some disposable and (reusable) rose petals to sprinkle on the floor, bed, and wherever else you'd like. The rose petals + candles will instantly make your space feel super romantic. If you need some additional inspo, head on over to Pinterest – you'll find something you love.
Step 2: Valentine's Day at Home isn't complete without Something Delicious
1. A delicious meal – Whip up your signature dish or shake things up and try a new recipe. I used Hello Fresh for the first time recently and loved it! If cooking isn't your thing, or if you just don't have the time,  you can order a meal from your favorite restaurant. Hello Uber Eats!
2. Sorbet & Champagne Cocktail – If either of you have a sweet tooth, you will fall in love with a "sorbet & champagne cocktail." The first time I tried it, I was instantly a fan! Click the image below for a recipe and thank me later.
( Image and recipe from: www.jennifermeyering.com )
3. Chocolate Covered Strawberries. The perfect romantic snack. You can pick up a pack from your local supermarket or DIY it and make it at home.
When you've got your music, food, and lighting – you're almost at the finished line!
Step 3: The Entertainment for the Evening…
Now, this is where you can get really creative. Depending on what you and your hubby like to do, you can watch a movie or you can set aside sometime to spice things up. Here are 3 super cute and romantic options that can add a dose of sexy + intimacy to your night.
The Fishing Bowl Game
If you've seen the show Married at First Sight, you know where I'm heading with this. It's simple…
Get an empty fish bowl  or you can use another empty container.
Get a sheet of looseleaf and write down some emotional intimacy + physical intimacy questions. Cut them up, put them in a fish bowl.
Over a glass of your Sorbet + Champagne cocktail, take turns asking each other questions.
READ THIS NEXT: 3 Valentine's Day Surprises He'll Rave about for Years 
Couples Massages
You've got the lights, candles, mood music, and chocolate covered strawberries. Now all you need to do is get some massage oil (or regular baby oil), and take turns giving each other massages.
If you really want to wow him, watch a couple quick YouTube videos on how to give an awesome massage.
3. Share a Dance (Or maybe you want to be a performer for the evening)
Now before you shut me down, just hear me out sis. lol.
When's the last time you did something outside of your comfort zone to surprise your husband?
No one is saying that you need to be Beyonce, but how do you think your husband would respond if you invited him to slow dance with you, or if you did a dance for him.
If you think he'd appreciate it, then find a song, and make it happen.
A word of advice: Have fun with it – the more you enjoy yourself, the more he'll enjoy himself.
As a reminder, you're beautiful both inside and out – embrace that queen.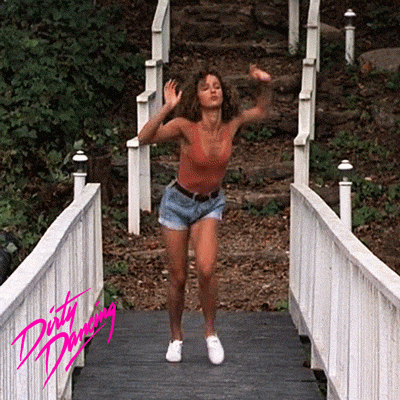 (Giph from: https://giphy.com/gifs/lionsgatehomeent-friday-patrick-swayze-dirty-dancing-3oEjHFNwV614N7RAKA)
Other tips for a romantic Valentine's Day at Home:
There you have it… 3 Super Simple Steps to a Valentine's Day at home experience your hubby will never forget.
If you want to give your hubby a gift, check out these Valentine's Day Surprises for some unique gifts he'll rave about for years.
You can get additional inspiration or get ideas on how to take it to the next level by visiting Pinterest – trust me, Pinterest is your friend.
If you need to get supplies quickly and don't have time to visit your local store, you can get fast delivery with Amazon (especially if you're a prime member).
How'd it go?
If you follow these 3 steps let me know how it goes! If you have any additional suggestions or tips you wanna share, leave them in the comments below – I'd love to get some extra inspiration.
(Enjoyed this post? Share the love and pin please)
—
w/ light and love,
Matthew 5:14 – You are the light of the world. And like a city on a hill that cannot be hidden.
Other Related Posts